Whether you are a Homeowner, an Investor, or a Realtor, getting your property market ready to love or sell is what we do!
Think Curb Appeal

We believe that curb appeal let's your neighbors know that you have pride in home ownership. Our landscaping list of services will help keep you up-to-date with your lawn care and gardening needs. We execute from design to finish, helping you upgrade that property value and have it looking it's best – it's what we do!
Landscaping is more than just grass. For a truly unique and vibrant outdoor space, Del Grande Homes Landscaping is the way to go. If you want to build something from the ground up, we'll be with you every step of the way. From design & planning to construction. No project is too big. We can help you realize your vision. It's #whatwedo
What Our Clients Say
Del Grande Landscaping competed our deck for my family and I, which is now known as our outdoor oasis! We had a set date in mind to have everything completed by the end of the month, and although most days were rainy, Del Grande Landscaping team was able to accomplish the task and have our deck completed in time for a family event. The team is very friendly, personable, and professional. They came early in the mornings before it rained, without disturbing my family and I. We recieve many compliments on our deck everytime we have company and its one of our favourite places to be at home. I would definitely contact Del Grande Landscaping again for our future home projects (next up is our driveway!) and would recommend this company and team to anyone who is looking to get things done right and in a timely manner. Thank you Del Grande Landscaping.
J Sorromero
Spring/Summer of 2021 we hired Wade and his crew to landscape our backyard. Wade provided us a quick detailed quote and worked with us on design ideas. Wade and his team were professional, knowledgeable and always willing to answer any questions/concerns we had. Things took a bit longer that expected due to supply chain issues/covid etc but the finished product was top quality. We now have a fantastic back yard that we cant wait to enjoy this season. I highly recommend Wade and crew.
Mark Erdmann
Wade and his team did an amazing job on my sodding project. Wade was very through in explaining the quote and the installation process to follow. I would highly recommend them to others.
Jason Attard
Complete Landscape & Hardscape Design Planning Services
Ready to create a luxurious outdoor space to relax and unwind?
Looking to enhance your curb appeal? Del Grande Homes Landscaping is the way to go!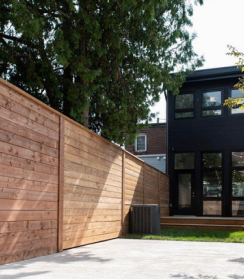 Decks, Fences & Patios
Gates, Stairs & Custom Carpentry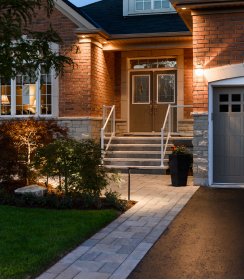 Interlock, Masonry, & Natural Stone
Driveways, Walkways & Retaining Walls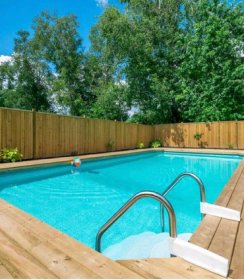 Backyard Oasis
Pools, Outdoor Kitchens, Water & Fire Features & Outdoor Lighting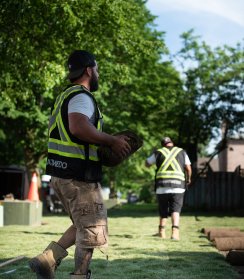 Greenscape & Irrigation
Sod Installation, Irrigation Systems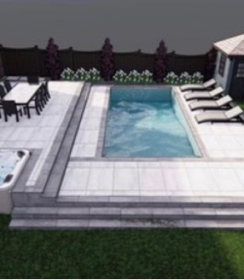 Custom Landscape Design
2D + 3D Digital Design
Trusted Partners